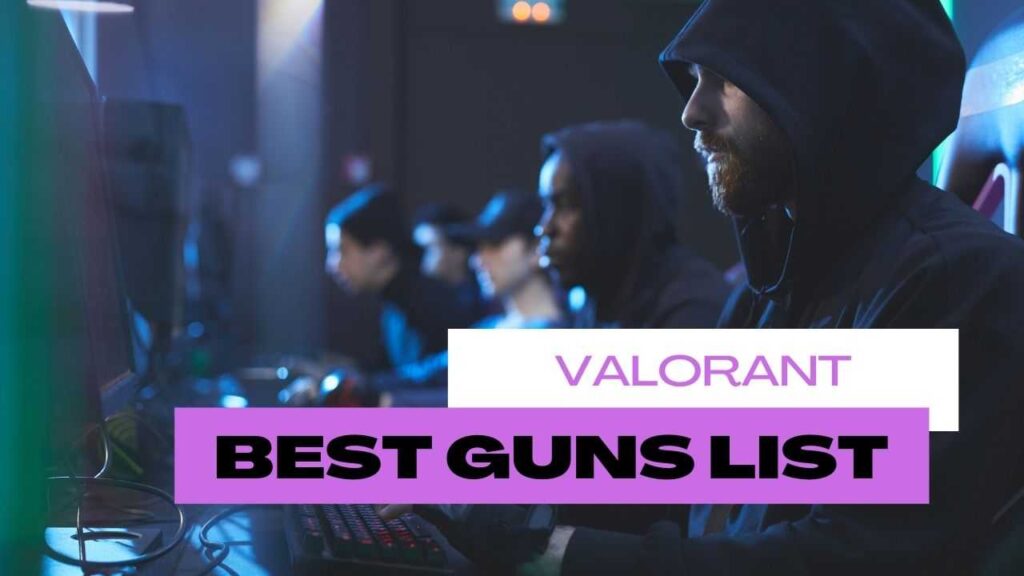 Valorant is reaching new heights with a successful launch last year. The player base is massively growing as Riot's games expand their esports scene throughout the globe. The game has undergone many changes, where agents and guns have gone under significant changes to make the whole game more balanced.
New players often come across situations where they get confused about picking the right weapon for the current situation. In this blog, we will brief you about the best guns in valorant for every situation. Weapon choices differ according to our individual game style, whether we enjoy taking close-quarter engagements or taking out an enemy in a sneaky way.
The Valorant gun tier list is divided into 3 lists, Tier 1,2, & 3 respectively. In general, the weapon tier list focuses more on how versatile a weapon is for all situations and providing maximum value.
Best Weapons in Valorant Tier List :
| Tier 1 | Tier 2 | Tier 3 |
| --- | --- | --- |
| Ghost | Sheriff | Guardian |
| Operator | Frenzy | Judge |
| Phantom | Stinger | Marshal |
| Vandal | Bulldog | Ares |
| Spectre | Odin | Classic |
Best Guns in Valorant
Valorant Tier 1 Guns List
These Weapons are arguabaly the best guns in valorant for any kind of situations.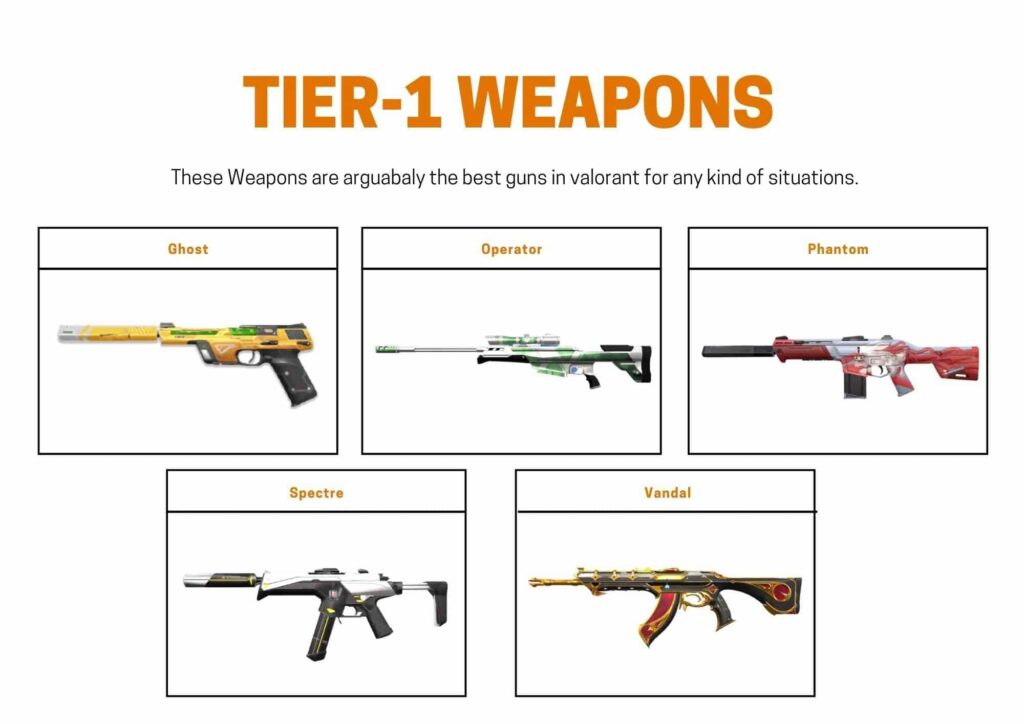 Phantom: One of the greatest Assualt rifles Phantom. The gun is versatile for any range because of its high fire rate and 30 mag bullet capacity.
Vandal: There's been a long debate about which gun being better among Vandal & Phantom. Both of these guns have a massive damage and fire rate. What really makes Vandal unique is its potential to kill enemies with a single bullet headshot.
Ghost: A perfect sidearm for pistol rounds. Just 1 bullet on the head without armor, all it takes to knock down your opponent. Above all, the ghost is a quite accurate and efficient weapon for eco rounds.
Operator: The sniper Rifle may be a bit costlier when it comes to the team's economy. However, the value that an Operator can provide for that amount is huge. The operator could turn out to be a nightmare for some opponents if given into the right hands because of its one-shot kill anywhere in the body.
Spectre: A complete value for money SMG that can do some decent damage on short-medium range battles. Not just that, you can be more versatile with the weapon, all thanks to its high fire rate and ease to handle the recoil. With 1600 credits, this gun can turn out to be a dark horse anytime.
---
Tier 2 Guns List
The weapons in this tier list are decent enough to give impactful damage in certain situations and positions.
Sheriff: Upgraded pistols are efficient during eco rounds and sometimes sheriff can be so deadly with its high damage caliber. The only drawback of the gun is its high recoil recovery which makes it difficult to use.
Frenzy: An automatic pistol with high accuracy at close range battles. If positioned correctly, a frenzy can knock out opponents with rifles in close-quarter fights.
Stinger: Players are evolving meta with the gun stinger due to its rapidly fast fire rate. Moreover, the stinger is quite accurate while running and shooting which makes it easy to knock off enemies with rifles in close-range battles.
Bulldog: The gun may not have a good fire rate, but the good side about the bulldog is its burst fire rate that can knock out enemies super quick while aiming correctly.
Odin: Heavy-Machine guns are best for holding off enemies when they are about to execute. Odin offers a long magazine and high wall penetration damage that will surely lay down a massive amount of Damage. Agents like Sova can make up their plays with Odin in various spots on the map.
---
Also Read: Tips and Tricks in Valorant to Improve Aim and Gameplay.
Tier 3 Weapons List
Lastly, the list of weapons rarely gets used in games. You gonna need to be more creative to get value from these weapons.
Guardian: Semi-auto rifle that can snipe off the enemy with a single headshot. However, due to its high price and if you miss the headshot mark the weapon is useless in most situations.
Judge: Shotguns are always flashy and fun to play. When it comes to competitive matchmaking, you won't get many chances to make your way through with Judge. Opponents can predict the spots and likely to engage in long-range. Although, agents like Jett can make some insane plays with the gun.
Marshal: A highly accurate sniper to hold enemies at long range. Not many players prefer to use marshal in force buys as there is a better alternative in the price range.
Ares: The LMG is actually good in holding off some line of sights but spectre just gives you more mobility to adapt in any situation regardless of Ares high penetration rate.
Classic: At last, the classic pistol that you get for free in every round. There isn't much about classic as the burst mode is useful in close combat.
---